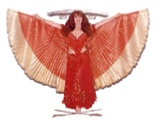 Digital mp3 downloads! Because of the demand it has been suggested to create this feature for our students who do not have CD players/burners.

Cost is $2.00 per song
(Yes, higher than iTunes, but we do not have their customer base.)
No complete CDs at this time. Only Single Songs!
List the song you want on your order and it will be emailed to you.