We can provide one dancer or as many as your special occasion requires. We want YOUR party to be a success.
We are dedicated to complete professionalism in performance, costumes, and conduct.

Our mission includes volunteer work.

Experienced dancers and musicians with entertainment you can be proud to provide.

We can provide references any time from agencies and individuals.
Call us for your next special occasion!
Metro 817-498-7703
Name Your Event! Our professional dancers are trained entertainers who will add excitement to every type of celebration - from your husband's 50th birthday to corporate events and fund-raisers to Arabic weddings. No bachelor's parties, please.
Give us a Theme! Our talented dancers and musicians are up to the challenge. Some of our most popular shows include:
| | |
| --- | --- |
| | Middle Eastern Dance - Our original specialty. We have many dancers with 4-20 years experience in bellydance with specific training in professional performance for all types of audiences and occasions. |
| | |
| --- | --- |
| Polynesian Dance - Fast becoming our most popular offering! Host an at-home luau! Motivate your top producers with a taste of that grand prize trip to Hawaii. We take you to a variety of Polynesian islands for a fabulous time, with authentic dance style, implements, and costuming. We can include audience participation for your groups' full enjoyment! | |
| | |
| --- | --- |
| | CanCan - Texas parties demand Texas-sized entertainment! Spice up your event with a flavor from the Old West. Let our fun, energetic CanCan show entertain your group with high kicks, ruffled skirts, and a whole lot of attitude! |
| | |
| --- | --- |
| Calypso - Take your guests to the Caribbean! Let our Calypso dancers showcase their specialties, and then include you in the lively limbo and the always popular conga line. | |
| | |
| --- | --- |
| Decade Dances - Whether you need a flapper from the roaring 20s, a go-go girl from the 60s, or dancers for your fabulous 50s sock-hop, we have entertainers to meet your needs. Always fun and always professional, you can be sure that your guests will have a great time! | |
---
Did we forget to mention . . .?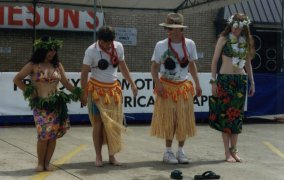 We SPECIALIZE in audience participation!!
---
Testimonials

"Your dancers prove superior not only during their performances, but also in their demeanor. Your people arrive on time. . ., project the professional outlook that we require, and truly care about their work. I never worry when I have Isis and the Star Dancers booked for one of our engagements. I know that my client will receive the highest quality entertainment available."
- Brad Lee, President, Joan Frank Productions
We are top-notch performers. We customize a show to meet your client's needs, while exceeding their expectations. We check in early and leave you free to devote your time to everything else. We work hand-in-hand with some of the top agencies in the Dallas/Fort Worth area, including:
Carol Marks Agency

Joan Frank Productions

Hetzger

Incredible Productions

Bravo Entertainment
Call us metro 817-498-7703

This site and its contents are proprietary material of Isis Productions. Personal photographs appear by permission of their subjects. Obtain written permission for use of text or graphics. Copyright (c) 1999 Isis Productions.