Belly dancer, martial artist sets her eyes on FBI post
Shirlett Warren/nw news editor
Monday, May 7, 2012
Photos by David Reid/The Collegian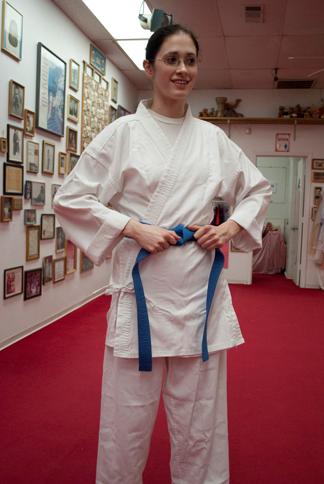 Since she was 10 years old, Jennifer Brantley has performed as a belly dancer at the Scarborough Renaissance Festival.

Today, the NW student continues to dance as a member of Isis and the Star Dancers in Bedford , and she is also an actor and martial artist.

"[Belly dancing] is an incredible form of expression and one of the few forms I'm truly proficient at," she said. "Ballet hurts my toes."

She started belly dancing when she was almost 8 years old. Both of her parents were dancers and performed in shows at the Scarborough festival. Brantley worked her way up to become a part of the show.

"I started on a little-bitty stage, and it was fun," she said. "Now, I'm actually one of the main dancers, which is insanely exciting. I get to dance with a sword on my head."

Brittany Swindell works with Brantley at the Bedford dance studio and said many dancers have stage personas.

"Especially the quieter ones," she said. "Put them in an outfit and they're front and center."

Swindell said many belly dancers express themselves in an earthy, tribal, slinky style.

"I'm a little more on the slinky side," Swindell said. "But Jennifer is a gorgeous dancer — very graceful and elegant."

Along with their stage personas, Brantley said most dancers have stage names. Hers is Ay Peri, which means "moon fairy" in Turkish.

A self-described introvert, Brantley said she also expresses herself on stage as an actor. She said she realized she enjoyed acting when she was in high school.

"People talk over me. I have quite a few friends, but they talk a lot," she said. "I realized I loved theater because it was so much fun to be up there having everyone listen to what you say."

She said she gets a warm feeling when she works with other actors to tell a story.
Last semester, NW drama associate professor Josh Blann cast Brantley in The Poe Murders, his stage adaptation of some of Edgar Allen Poe's most well-known stories.
"Jennifer was delightful to work with," he said. "She's smart, kind, dedicated and dependable, and she grew a lot from Poe Murders."
While Brantley expresses herself through dancing and acting, her career goal is to be on the FBI behavioral analysis unit. After a close family friend was murdered, she recognized that she was passionate about justice being served.
"I've always wondered what motivates people to do what they do," she said.
She's trained in martial arts since she was 6 years old and believes those skills will be useful in the FBI.

"For me, martial arts is a lifestyle. It's not a sport," she said. "I even taught myself how to fight in heels."

Brantley plans to transfer to Austin College in Sherman and pursue a dual major in psychology and international relations. She said she'll continue belly dancing, though.
"I've done it for so long. There are things that can't be expressed using words," she said. "When I apply for the FBI one day, they'll be doing a background check on me and say, 'She's a what?'"