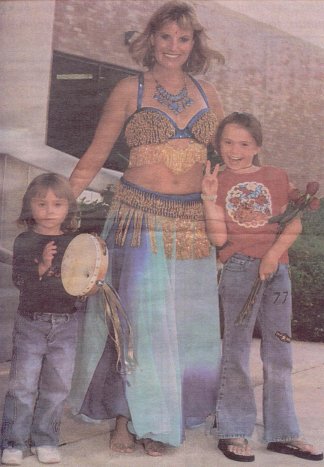 DFW People
August 21, 2003
AA Flight Attendants find solace in Middle East dancing
By Bill Leader
Photos by Bill Leader
American Airlines flight attendants, with their recent pay cuts, are finding solace in Middle Eastern dancing. Cari Bell-Perlingiero, a domestic flight attendant for AA, is pictured here in this Egyptian-made dancing outfit. With her are her two daughters, Kenzy, age three; and Keeley, age eight. Her husband, Keith is an American Airlines captain flying the Super 80.
Several American Airlines flight attendants, working on lower pay, no food on the airplanes and tighter schedules, are finding solace in Middle Eastern-style dancing.
Isis Bartlett and her Isis Star Dancers presented a show of exotic dancing at the Grapevine Convention Center over the weekend.
Known as belly-dancing in the western world, the term is not correct. One young woman, who goes by the name Jewel, explains the correct term is Raks Sharki.
Jewel, whose mother is Carolyn Quinn, an American Airlines employee involved in the airline's finance department, is a member of the Wings of Isis Dance Group.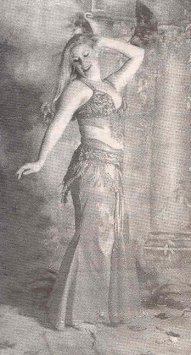 A student, working on a degree in Spanish, Jewel explains that the term belly-dancing was invented in the United States.
"With this type of dancing you use all parts of your body. It's good for your self-confidence – you have to believe in yourself to perform. It allows women to get together and bond. It's also great for posture, " she explains.
And don't make any derogatory comments about the Arab race around this group.
Denise Cannizzo, who has flown for American Airlines as a flight attendant for the past 14 years, has spent time in Egypt. And she has traveled in many parts of the Middle East where she even took some dancing lessons.
"They are the most open, warm and loving people you are going to find. They are kind-hearted people and very, very hospitable," she said.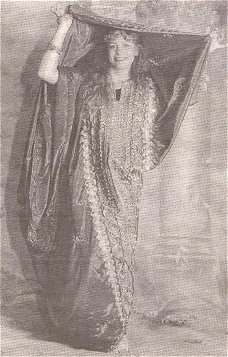 The Raks Sharki dancers do not perform under their real names. They select a name.
Ms. Cannizzo dances under the name Isabella. She met Isis Bartlett, founder of the Isis Dancers, at Scarborough Faire in 1985. Ms. Cannizzo recalls she was instantly intrigued.
Like all American Airlines flight attendants, Ms. Cannizzo is trying to cope with about a 25 percent cut in her pay. Recently married, she and her husband have opened a flower shop – The Rose & Thistle Flower Shoppe (she chose the Old English spelling) at 5024 Trail Lake Drive in Fort Worth.
Ms. Cannizzo finds the Raks Sharki dancing relaxing.
"It (Raks Sharki) emphasizes muscle control. It's a good work out, highly aerobic. People who have back problems should learn to belly dance," she said.
The flight attendants voted on an agreement back in April this year that gave the company $340 million in annual savings. Included in the agreement are scheduling changes, which the flight attendants say sometimes gives them as little as four hours of sleep during layovers.
The work has changed dramatically over the last two or three months. It was a job I truly, truly loved. Now I almost dread going to work," Ms. Cannizzo said.
No longer anything to eat on the airplanes, Ms. Cannizzo says she often takes some beef jerky and protein bars onto flights.
The outfits the Raks Sharki dancers wear are intricate and gorgeous. As is currently fashionable with females today, many of the outfits leave the woman's midriff bare. It is for this reason, perhaps, that the term belly dancing was coined.
Cari Bell-Perlingiero has worked American Airlines flights for 17 years her outfit was made in Egypt. Ms. Bartlett bought the outfit in Egypt and brought it to the United States.
"You know how to tell the genuine article?" she asks. At the back of her outfit there are a mass of tassels. The end of each tassel has a gold-colored bead. But she finds one tassel that has a red bead.
Ms. Bell-Perlingiero, who dances under the name of Nadia, explains that the defect in design is deliberate. It is considered blasphemous to make a perfect design.
"Only Allah is perfect," she explains.
Like all her dancing colleagues she has high praise for Arab people.
The Arab male is a gentleman personified.
"I have to say, very respectful, very nice," she said.
Ms. Bell-Perlingiero was with her two daughters, Kelley, eight, and Kenzy, three.
After the birth of her second daughter her husband, Keith, an American Airlines captain, asked her what she would like as a gift. She responded, "belly dancing lessons."
She plays competition tennis and has found the Middle Eastern style of dancing has actually helped her game.
It's not an easy dance to master as, she explains, it forces the dancer "to isolate the muscles."
So far as her professional life, Ms. Bell-Perlingiero said that, together, she and her pilot husband have relinquished $65,000 in annual pay. (The American Airlines pilot corps gave up $660 million to save the company from having to file Chapter 11 bankruptcy.)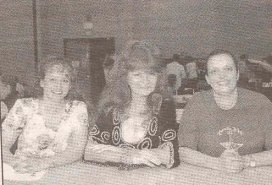 "You know, I sometimes, think our union gave up more than they really needed to. But, we had to keep our company going," she said.
<![if !supportLineBreakNewLine]>
<![endif]>
GRUELING
The schedules are more grueling, she said. Flight attendants no longer receive eight hours of rest on layovers. The fact flight attendants no longer have anything to eat on the airplanes adds to the stress.
Quite recently and ready to board a flight she recalled feeling almost faint with hunger.
"An agent asked me if I was ready to board. I told her, 'You better stand back or I'll eat you up!' She let me go and buy a cheeseburger before boarding," she recalled.
On a more positive note, Ms. Bell-Perlingiero believes the large drop in income and even the tougher schedules have strengthened her family.
"We've tried to be creative in terms of spending. We have been able to keep our house. But there are a lot of other things we cannot afford," she said.
Whereas before she worked part-time she now works full time.
"But I think it's made our family stronger," she said.
LimMaya Godbey, a member of the Isis dancers, has explored the origins of the dancing style.
In Arab society women were often segregated from men, and originally, the women danced for one another. The dancing, since it uses so many different muscles, was also used as an exercise for childbirth.
"The dancing for the Sultan thing, that's Hollywood," she said.
And the dancing is a great way to lose weight and inches while having fun at the same time, Ms. Godbey explains.
"I have just finished teaching a seven week program. There were 16 people in the class. Altogether we lost 125lbs. and close to 70 inches from our collective waistlines," she said.
The dancing involves use of muscles some women, Ms. Godbey said, have never used before. There is considerable hip movement as well as moving the torso, rib cage and, of course, the belly.