Men Wiggle In on Female Art Form
Some Say Belly-Dancing Is for Their Abs;
While Others Are Going for the Outfits
By RAYMUND FLANDEZ
Staff Reporter of THE WALL STREET JOURNAL

BEDFORD, Texas -- James Brantley is an Air Force computer specialist by day. After hours, he is "Shadid," male belly dancer.
Mr. Brantley, a former Marine Corps sergeant from nearby Fort Worth, took up the traditionally female, midriff-wiggling dance after repeated trips to a local dance studio with his wife and two daughters. He joined a male belly-dancing class because he loves to dance and thought it would be good exercise, especially to tighten up his abs.
While he endured giggles and teasing from co-workers, the barrel-chested 36-year-old found he liked the baggy pants, colorful vest and silk sash, and he loved performing. Three years into his belly-dancing hobby, Mr. Brantley now performs at a local Renaissance festival and studio shows under his stage name, which means "strong" in Arabic.
"It brings out the ham in me," says Mr. Brantley. "When I dance ... I'm taking on a different character."
Not since Elvis have so many men been wiggling their pelvises. While belly dancing has long been a female province, men are popping up in classes and dance studios, clubs across the country say. The trend is gaining steam thanks to everything from a growing interest in Middle Eastern culture to belly-shaking pop stars such as Shakira and Britney Spears. Sports clubs now offer belly-dancing classes, exposing more men to the idea.
Some guys belly-dance because it offers good, low-impact aerobic exercise, similar in some ways to martial-arts training, with specific emphasis on tightening abdominal muscles. Others take it up for vanity -- the allure of performing as a sexy sultan.
"It allows them to perform outside their normal persona," says Alice Godbey, instructor at Isis and the Star Dancers, a local dance studio that has been offering lessons to Mr. Brantley and other men since 1998.
At a time when men are dyeing their hair, dabbling in cosmetics and seeking makeovers, a form of dance often associated with women isn't seen as out of bounds. "Men are getting into things that are called 'feminine experiences,' but they're human experiences, when you look at it really," says Andrea Deagon, a belly dancer and associate professor of classical studies at the University of North Carolina at Wilmington.
Professional male belly dancers now perform in restaurants and nightclubs, along with female dancers. Davey Mitchell, or "Mashala," as he prefers to be known, started belly-dancing about three years ago in New York after formal training as a dancer with the Alvin Ailey troupe. The 42-year-old charges $100 to perform at birthday parties.
Adam Basma, born in Lebanon but now living in Los Angeles, started publicly performing in the 1970s while in high school, bucking a cultural prohibition that still frowns on Middle Eastern men belly-dancing in public. He entertains at weddings and other private functions, earning $1,000 or more for a 15-minute solo.
"When you become successful, then everybody loves you," Mr. Basma says.
Mr. Basma now owns his own Middle Eastern dance studio and a dance company. He has performed at Las Vegas's MGM Grand and Bellagio hotels. In 2000, Mr. Basma and his dancers even performed at the Democratic National Convention. Since the studio opened five years ago, about 20 men have enrolled, including 12 this year.
"Belly dancing" is a term applied to a medley of North African and Middle Eastern dances that also have been tinged by Arabic and Central Asian influences.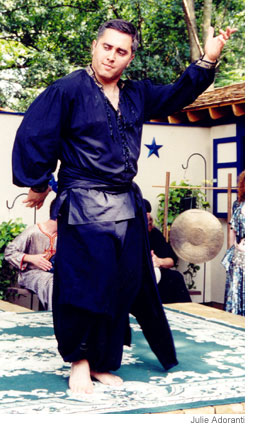 The dance, also known as Raks Sharki, Arabic for "Eastern" or "Oriental" dance, originated in the Middle East thousands of years ago as a folk dance for joyous occasions. The dance was first popularized in the U.S. at the 1893 Chicago World's Fair. Dubbed "belly dancing," a provocative name meant to capture Americans' imaginations, it soon took off in popularity. In Western culture, the image of belly dancing as an activity meant for women to seduce men took hold.
In Middle Eastern culture, belly-dancing marks events such as a plentiful harvest, a religious holiday or a child's birth. Female belly dancers historically shared the spotlight with men. In Muslim societies, belly-dancing is tolerated in private social gatherings, but women never dance in front of men who are not related to them and vice versa.
Belly-dancing is a waistline buster. It targets the "core," or midsection, especially isolating and strengthening lower abdominal muscles and the hip area. With lots of practice, some say, a woman can knock a man off his chair with a casual sway of a hip.
It takes a tough sort of man to attempt belly-dancing. Men are "taught that you have to have an immobile pelvis," says Anthony Shay, a dance historian at Pomona College in California. "The minute you start moving the pelvis, then you're already kind of defying society."
To the casual observer, the mechanics of the dance for men and women are much the same, says Jerry Gray-Eskue of North Richland Hills, Texas, who performs under the stage name "Ankh," at dance studios and outdoor festivals. Yet there are a number of subtle differences.
Movement of the hands can make a dance either masculine or feminine, for example. Women use soft, coy hand gestures to lend allure. Men hold their hands more firmly to convey strength. And most men don't bother trying some belly-dancing moves, such as an elaborate swoon, which looks something like fainting. "I don't think a male could pull that move off and remain masculine," Mr. Gray-Eskue says.
One recent evening at the Medina Restaurant, a plush Moroccan eatery in Rutherford, N.J., a male belly dancer's body undulated to a fast-paced beat. His finger cymbals clanged as the audience clapped along. Attired in a gold-embroidered vest and crushed velvet baggy pants of forest green, bare-chested "Tarik" -- whose real name is Tyrone Bailey -- has been the featured star on Wednesday "Ladies Nights" since January.
The 36-year-old headliner, who teaches dance at a Manhattan studio and history and social studies at a Bronx junior high school, led some of the women and men onto the carpeted dance floor. Lillian Sachais of Clifton, N.J., whose granddaughter gave her the night out for her 88th birthday, danced among them wearing a plastic pink-flowered lei.
Tarik let out a high-pitched yell of approval as he taught the participants some of his torso shakes, hip rolls and arm twists. Then he showed off one of his more acrobatic moves: transferring a small circular tray full of a half-dozen tea-candle lights from head to foot without using his hands.
"He really knows how to shake his booty," said Ms. Sachais.
Write to Raymund Flandez at raymund.flandez@wsj.com
Updated August 11, 2003