Hotel Information
Questions or phone registration dial 1-888-918-4747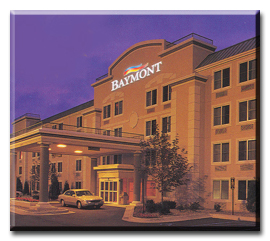 The official hotel for Isis and the Star Dancers' Yaa Halla, Y'all, Gathering of the Stars will be The Baymont Hotel, located north of the Dallas/Fort Worth Airport. The hotel is within walking distance of the Grapevine Convention Center (where the shows and seminars will be held). They have offered free shuttle services to and from the airport as well as the Convention Center. It is in a nice part of town where you should feel secure about your location.
Each room will sleep up to four people. A king size bed or two double beds per room are available. Amenities include a hair dryer, ironing board and steam iron, plus a complimentary continental breakfast. They also have a few suites available that include refrigerator and microwave. In addition, the Baymont Inn has an outdoor pool (Great idea for August in Texas)!
There are many dine-in restaurants and fast food restaurants located nearby. Additionally,
the Grapevine Mills outlet mall, Outdoor World, and the Bass Pro Shop are only minutes away.
You may reserve a room through our online secure shopping cart , by phone (1-888-918-4747), or by enclosing a check or money order and sending it to Isis Productions PO Box 311 Colleyville, TX 76034. Please be sure to include VALID CONTACT INFORMATION!!! Your information will remain confidential and will not be shared with any organization.
We will mail a confirmation packet to you at the address you provide. Your complete ticket packet can be picked up at the Grapevine Convention Center upon arrival.
All prices include taxes and continental breakfast. No reservations will be accepted after August 1, 2006.

Online Hotel Reservations are no longer being accepted. Thank you.