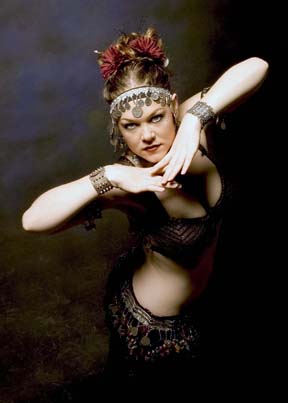 Mira Betz
The multi-faceted career of Mira Betz is a testament to her passionate artistry and desire for continual growth. Active in theater, dance and the performing arts for 20 years, Mira Betz has become a sought after dancer, choreographer, costumer, and teacher.

Mira began her training in Middle Eastern dance as a young teen studying with some of the most respected and knowledgeable teachers of our time, such as Katarina Burda, Jamila Salimpour, and Suhaila Salimpour. As a founding member, choreographer, and solo performer of Aywah! Ethnic Dance Company for 10 years, she developed a solid foundation of contemporary, traditional, as well as ritualistic dance forms. Aywah!, under the direction of Katarina Burda, flourished to become one of the San Francisco Bay Area's most respected ethnic dance companies and significantly influenced today'sTribal Fusion scene. In 1998 Mira went abroad to live and study the native dances of Morocco.

In 2007 she co-founded the Barbary Coast Shakedown, a collaboration of Middle Eastern dance professionals exploring theatrical dance performance. She has had the pleasure of working with incredible talent such as David Byrne, Rachel Brice, Jill Parker, Zoe Jakes, Elizabeth Strong, Heather Stants, Amy Sigil and many more. Mira Betz received her B.F.A. from the California College of Arts and Crafts. Her dance background includes training in Salsa, Modern, Jazz, and Flamenco. Mira continues to spread her experience, knowledge and love for dance through her captivating performance and engaging teaching style.
(Source: Mira Mania.com)