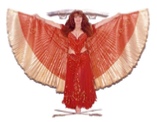 May 2019
Friday, May 3rd -
Come watch us perform at the Mayfest! Zone Stage at 7:00 pm and make it a grand evening of entertainment!
Monday, May 27 -
We will be closed for Memorial Day! BUT come see us perform closing day at Scarborough Faire!!
June 2019
WORLD DANCE CAMP
Monday, June 10 - Friday, June 14
9:00 a.m. - 12:00 p.m. With a lunch from 12:00 p.m. To 1:00 p.m.
Two age groups:
Littles (6 - 11)
Teens (12 - 15)
Registration in advance $195, by June 1, 2019
Late Registration $245, June 2 - June 10, 2019
New Classes starting in Belly Dance:
June 27th at 6:30 pm
June 29th at 10:00 am
New Classes starting in Drum:
June 29th at 12:30 pm & July 2nd at 6:30 pm