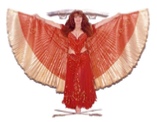 September
3rd
STUDIO CLOSED FOR LABOR DAY
29th
Star Dancers will be performing at St. Michael Catholic Church for their Feast Day Celebration.


7:00 pm - Doors open for the Fall Hafla. Show starts at 7:30 pm. TICKETS - $10 in advance, $13 at the door
30th
3:00 pm - State Fair of Texas - Raksettes, Wings of Isis and Cultural Dance Team performing on the Texas Heritage Stage. Opa!
October
1st
6:30 pm - New Beginner Belly Dance
7:30 pm - New Beginner Hula
6th
9:00 am - New Beginner Belly Dance
GALA SHOW - Wings of Isis AND Isis performing at RakStar in Miami , Florida
11th 6:30 pm NEW Little SEEDS
(6-8 yrs of age)
7:30 pm NEW Intermediate SEEDS
(9-12 yrs of age)
20th
Wings of Isis Halloween FUNDraiser
Knights of Columbus Hall
1319 Brown Trail
Bedford, TX 76022
(Doors open at 6:00 pm for VIP and 6:15 pm for General Ticket holders)
Ticket sales for VIP [$50] will end October 15.

General Tickets [$27 in advance] will go up
on October 12th [$32 in advance] and are $36 at the door.