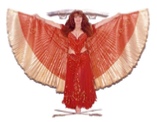 Adriana Sandoval began studying Middle Eastern dance at Farfesha World studios in August of 2009. Prior to belly dancing, Adriana was a member of Yjastros, the professional American Repertory Flamenco Company under the director Joaquin Enciñias from 2001-2004 and prior to that she was a member of the pre-professional group, Alma Flamenca, under the direction of Eva Enciñias-Sandoval from 2000-2001. Prior to Flamenco dancing, Adriana was a member of Ballet en Fuego, a professional Mexican folkloric and Latin dance group under the direction of Frances Lujan from 1992-1999 and, Los Tapatios in 1991.

Having a professional background in Mexican folk dance and Flamenco, she enjoys cultural, folk dances. Adriana instantly fell in love with Middle Eastern music and dance and has studied with various local teachers as well as internationally acclaimed artists. Adriana is an award-winning choreographer, a former house dancer for 4 years at Pars Mediterranean cuisine, a Farfesha troupe member from 2010-2015 (winning 1st place in the troupe category at Yaa Halla Y'all 2012), a Sirena troupe member since its inception in 2016 and a guest dancer of the Desert Darlings troupe. Adriana is also co-director of the Raqzia dance troupe since its inception of July 2016, that specializes in Raq Sharqi, cabaret and folk style forms of dance. In 2013 Adriana won 1st runner up in the Cabaret Professional Solo category at Yaa Halla Y'all and returned to win 1st place in the Professional Cabaret Solo category at the Yellow Rose of Texas Belly Dance Star Competition in 2018.


Adriana currently teaches on-going classes at Sirena Studios, out of Albuquerque, New Mexico. She is known for having challenging, fast-paced classes, suitable for an enthusiastic beginner dancer that likes a challenge and for more experienced to professional level dancers.


Adriana is also a full-time 3rd grade dual language teacher with Albuquerque Public Schools since 2004, has a bachelor's degree in Elementary Education, Bilingual Education and a Master's degree in Language Literacy and Socio-Cultural Studies. She's also married and a mother of 2 sons, ages 1 and 4.