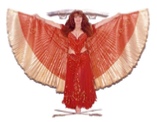 Website created by Lux Alexander. Updates by Lynda (Cryer) Sands
All contents © Isis Bartlett and Isis Academy of Performing Arts.

Meaning "touched by God," the name Bozenka suits this performer, whose gift for the art of belly dancing transcends her Cuban-Czech heritage, as she enthralls audiences and inspires performers throughout the world. As a resident of Miami, Bozenka started her training at The Mid Eastern Dance Exchange in 1998 under the leadership of Tamalyn Dallal. She quickly distinguished herself developing an elegant, classic, earthy and charismatic style that earned her the prestigious title, Miss America of the Bellydance 2000. In July of 2006, she brought home the golden crown from the "Ahlan Wa Sahlan" dance festival in Cairo, Egypt. This achievement was even recognized by CNN, which broadcasted the event worldwide with its headline stating, "An American Belly Dancer has taken the Egyptian crown!"
Bozenka has choreographed for Latin pop star Shakira for her 2004 and 2010 tours, performed with "Alabina" during their concert tour in Miami Beach, and entertained many celebrities including Sean Connery, Donald Trump, Hugh Hefner, Madonna, and Enrique Iglesias. Last year Bozenka was a belly dancing globe trekker, touring with the popular dance company, the Bellydance Superstars, as a featured soloist throughout the United States, Canada and Europe. Besides being an accomplished performer, Bozenka is one of the most sought after instructors in the Oriental dance form. Her special teaching technique and her wonderful spirit make her workshops a fulfilling and motivating experience for all who attend. Bozenka is a well-rounded artist and a true belly dance Superstar!