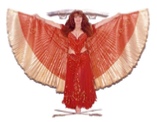 Website created by Lux Alexander. Updates by Lynda (Cryer) Sands
All contents © Isis Bartlett and Isis Academy of Performing Arts.

2016 marks the thirty eighth anniversary of the album' Dream Dancer', said to be the first album of belly dance music composed and performed entirely by North American musicians. It was on the forefront of the genres that came to be known as 'New Age' and 'World Beat' music. Regardless of where it might stand on the constantly shifting landscape of musical styles and classifications, there is no doubt that the music of 'Dream Dancer' has touched the lives of listeners and dancers around the world. In this story Doug Adamz, producer, violinist, and principal composer for 'Dream Dancer', reflects on its creation and history.
Doug Adamz has recorded five albums of original, instrumental music and three albums of his songs. His compositions have been used by The Joffrey and other ballet companies (Santa Fe/Aspen, Oklahoma City, San Francisco), featured in a film by Robert Altman (The Company), heard in a PBS documentary soundtrack (Jim Thorpe, World's Greatest Athlete) and in two Spanish television series (La Frontera Herida, Sahel). The Kronos Quartet commissioned Doug to write several short pieces and Stevie Coyle (The Waybacks) and Dr. Elmo (Grandma--Reindeer) have recorded and released some of Doug's songs on their albums. He's performed with Ramblin' Jack Elliott, Joan Baez, and many finger-style illuminaries like Stevie Coyle and Doug Young, played (informally) with Maria Muldaur, and Jim Messina, recorded with Peter Rowan and Huey Lewis and opened for many stars including Ricky Skaggs, Jerry Lee Lewis, Jesse Colin Young, Leo Kotke, David Lindley, Dottie West, The Chambers Brothers, Steppenwolf, Johnny Rivers and Johnny Lee. His 1973 degree in music is from the University of Texas at El Paso, with a major in guitar.