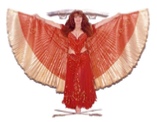 Website created by Lux Alexander. Updates by Lynda (Cryer) Sands
All contents © Isis Bartlett and Isis Academy of Performing Arts.

Fahtiem is in great demand sharing her vast knowledge and passion for this beautiful art form traveling worldwide and all while still maintaining a full teaching schedule in Los Angeles, California. She has trained and mentored many of today's Superstar Dancers in the field of Middle Eastern Dance.

Fahtiem teaches in a manner that is appealing to all levels of dancers, leaving no one untouched. She believes that with focused positive energy even the simplest move can be engaging. It is not so much the level of difficulty of the movement as it is how you present it. She brings sensuousness and liveliness to the dance. There is a gleam in her eye when she flirts with the audience that leaves them crying for more. With a simple lift of her eyebrow she exudes warmth and humor.
Fahtiem, of California, currently acts as the Executive Producer and Director of "OASIS DANCE MAGIC," which is a highly acclaimed stage production and convention, now starting its third decade. She also is the Director and Choreographer for "The Sultan's Delites." Her DVD series "BellyDance Bootcamp with Fahtiem" strives to help shape up the Dance World! Recently, Fahtiem had the honor of being the Choreographer and Featured Dancer for a show at the prestigious Carnegie Hall in New York City. Internationally, she has been honored to teach and perform many times in her career, including the annual "Ahlan Wa Sahlan" Dance Festival in Cairo, Egypt.
Along with being listed in the International Who's Who of Professional Business Women, some of her awards include: International Cultural Diploma of Honor - Woman of the Year, The International Academy of Middle Eastern Dance - Dancer of the Year, Entertainer of the Year Nominee, Choreographer of the Year, Teacher of the Year, Dance Magazine - Teacher of the Year, Dancer of the Year, American Academy of Middle Eastern Dance (New York) - Hall of Fame-Lifetime Achievement, and the MECDA Hall of Fame