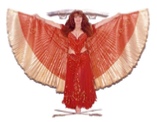 Faisal Zedan, born in Lebanon and raised in Syria, is an Arabic percussionist dedicated to preserving and teaching Arabic music and drumming. He has been teaching and performing Arabic and Middle Eastern music since 1991.
Faisal performs many Arabic music genres with focus on classical music and belly dance. In addition to Aarbic and Middle Eastern music, Faisal performs Greek, Balkan and Eastern European music genres.
Faisal teaches private lessons, workshops, seminars and music camps in the U.S and abroad. He performed and correlated with many local and international artists both locally and throughout the United States.