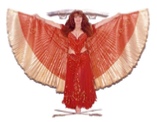 All contents © Isis Bartlett and Isis Academy of Performing Arts.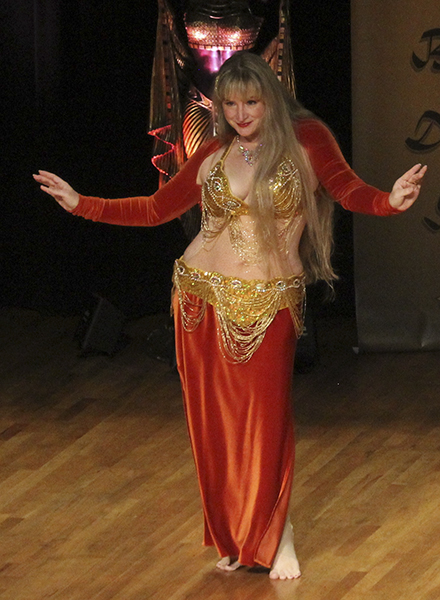 Helena
Helena first discovered belly dance at the Scarborough Renaissance Festival in Waxahachie as an adolescent, seeing Isis Bartlett and her troupe on the Gypsy stage. Mesmerized, she instantly knew she had to learn how to do that!!! Her somewhat conservative mother disagreed. Unable to be dissuaded, immediately after college, Helena joined Isis' Star Dancer Studio in Bedford, TX to begin her belly dance education. After years of hard work, she eventually found herself performing at Scarborough Renaissance Festival as one of the Wings of Isis….a dream realized.
During her tenure at the Star Dancer Studio, Helena has been a member of the award-winning troupe The Raksettes, Professional Performing Company troupe Raks Maysan, and now The Wings of Isis. In addition to study at her home studio, she has loved to travel to learn more about this beautiful craft attending Las Vegas Belly Dance Intensive in Las Vegas, NV, Bahaia's Cabaret Dance Camp in Ingram, TX, Aziza's DreamCamp in Val Morin, Quebec, and Coastal Belly Fest in Santa Cruz, CA. And of course, Helena has attended many years of Yaa Halla Y'all. She's also a member of the Drums of Isis, expanding her knowledge of Middle Eastern music through doumbek practice.
Each of Helena's immediate family members have attended the Star Dancer Studio at one point or another, learning Middle Eastern drum and belly dance. Even her mother-in-law is in on the fun and is learning to play the doumbek. She feels so fortunate to be a part of this community that has become an extended family.
In her non-dance life, Helena is a wife and mother of two. Professionally, she is an Executive Assistant. She also serves on the board of a non-profit Montessori School in Southlake, TX, which she helped create in 2014. Helena is a living kidney donor and urges everyone to register to be an organ donor at: https://www.organdonor.gov/sign-up/