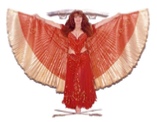 Luna Poumian is originally from CDMX (Mexico City); she has a bachelor's degree in Graphic Design and a master's degree in "Mass Communication and Art Direction".
She began to get involved in the art world through ballet, jazz and synchronized swimming, where she represented the state of Aguascalientes for 8 years, passing from there to other types of performing arts, practicing urban dance and contemporary dance; In 2007 Luna discovered Middle East dance and found her true passion.
In 2014 Luna graduated from the School of Arab dance "Belly Gym " completing the training program as ballerina and instructor of Bellydance, in 2015 she graduated as part of the first and only generation in Mexico to receive the "Certification for Dancers and Teachers of Oriental Dance " by Munique Neith.
Luna has many awards, certificates, diplomas and records of study and participating throughout her training as a professional dancer, national and international, highlighting among them her integration into "Bellydance Evolution ", under the direction of Jillina Carlano (2014-current), Al "Ballet Internacional de Munique Neith " (2015-2016) and Virginia Mendez's production of "Reflections" in Miami, 2016
She has earned titles like 2015 Professional Soloist at Najmah in Mexico, 2016 Stellar Pro Soloist at Belly Dance Masters in Orlando and she was the 2017 Cabaret Professional Solo Winner at Yaa Halla, Y'all.