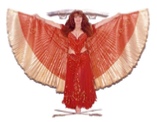 Website created by Lux Alexander. Updates by Lynda (Cryer) Sands
All contents © Isis Bartlett and Isis Academy of Performing Arts.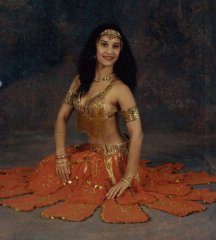 Marjan performs Middle Eastern dance professionally at private family parties, corporate events, and dance seminars. She has also performed at area restaurants including Byblos Lebanese Restaurant, Sinbad's Palace, and Greek Isles.
Marjan is a natural entertainer who blends a versatile ethnic appearance with a light, graceful style. She began studying Middle Eastern dance in 1992 and quickly fell in love with the emotional range of this art. From elegance to sassy, spirited fun, Marjan offers it all. In 1994, Marjan took up Polynesian dance and quickly grew into a professional performer of Hawaiian, Tahitian, and Maori dances.
Since then, Marjan has presented both Middle Eastern and Polynesian programs at nursing homes and retirement centers, schools, and various festivals in the Dallas/Fort Worth area, including Scarborough Faire, Mayfest, Arbor Daze, Denton's Arts & Jazz Festival and Star Rise event, the Dallas St. Patrick's Day Parade, Fort Worth's Oktoberfest, and Grapevine's Grapefest. Marjan also enjoys "country dance," an entertainment-oriented blend of Irish, Scottish, and English folk dances, which she has performed with The Rogues in past years at the Texas Renaissance Festival.