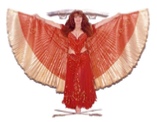 Website created by Lux Alexander. Updates by Lynda (Cryer) Sands
All contents © Isis Bartlett and Isis Academy of Performing Arts.

Meera Varma - daughter of international ethnic dancer Zarina Varma and classical Indian Tabla player Raj Varma, has trained to be a musical artist since the age of four. Starting at a very young age this Multi-Award Winning Dancer has had the opportunity to perform on six different continents. She has trained in India, USA, Canada and Egypt with world renowned Bellydancers, as well as being brought up training in the Classical Indian Dance styles Bharatanatyam & Odissi.
As a performer Meera focuses on the emotions of rhythm as she revels in the sensuality of her soul. Her stage presence is powerful yet playful, expressing extraordinary style with grace and beauty. She has performed to a vast array of cultural music, ranging from traditional music of the East to modern progressive music. Her style of dancing is unique, focusing on Dances of India, and authentic Egyptian and Cabaret style Oriental (Belly) Dancing, with the natural essence of her East Indian heredity and technique flowing through every performance. Meera has her own dance troupe called The Mahari Dance Company, performing both Oriental and Indian style dancing. Today, Meera Varma carries on the tradition of her ancestor's musical background, and pursues her artistic career before audiences around the world.