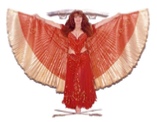 Website created by Lux Alexander. Updates by Lynda (Cryer) Sands
All contents © Isis Bartlett and Isis Academy of Performing Arts.

Sarafina
Sarafina, one of the founding members of The Wings of Isis, has been involved in Middle Eastern Dance since 1996. She first began dancing at the age of three. In addition to the Middle Eastern dance form, her background includes ballet, tap and jazz.

When not performing with the Wings of Isis at various dance concerts, festivals, and fund raising events, Sarafina can be seen performing at numerous Metroplex restaurants - Stratos, Byblos
and Al Amir, and occasionally at the House of Blues.

Sarafina has studied with many top Middle Eastern dancers including Amaya, Aziza, Karen Barbee, Shareen El Safy, Fahtiem, Hadia, Raqia Hassan, Isis, Jasmin Jahal, Morocco, Margo Abdo O'Dell, Suhaila Salimpour, Amir Thaleb, Vashti and Virginia.

Sarafina's specialties include cane, sword, veil, fan veil, wings, zills and audience participation. (Why sit and watch, when you can participate?) She is known for her fluid and graceful movements, especially with undulations. Admirers often tell her she looks like an angel while dancing. She has also been told more than once by
people who have both traveled to and lived in the Middle East that
she was one of the best dancers they have ever seen!

Sarafina is also a former board member of NTMEDA, the North Texas Middle Eastern Dance Association.