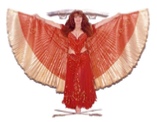 Website created by Lux Alexander. Updates by Lynda (Cryer) Sands
All contents © Isis Bartlett and Isis Academy of Performing Arts.

Isabella
Full of sparkle and life, Isabella specializes in entertainment. Graduating Cum Laude and Senior Scholar with honors from Texas Christian University with a Bachelor of Fine Arts in Theatre, she is no stranger to the stage. In addition to performing in a broad range of live stage productions from straight drama to musical theatre and dance, she also has worked as a designer, scenic artist, director, stage and production manager. Performing at Scarborough Faire Renaissance Festival since 1985 has made her a recognized face in the Dallas/Fort Worth metroplex.
Isabella began dancing with Isis in 1987. She is a founding member of The Wings of Isis Middle Eastern Dance ensemble and the Na Hoku Lani Hula Halau Polynesian troupe. Isabella also performs in many of the variety shows presented by Isis such as the Calypso, Roaring 20's and Can-Can. Isabella performs Middle Eastern dance professionally at private family parties, weddings, corporate events, dance seminars and area restaurants such as Byblos Lebanese Restaurant. She has presented Middle Eastern, Polynesian and theme shows at nursing homes and retirement centers, schools, and various festivals including Scarborough Faire, Mayfest, Arbor Daze, Denton's Arts & Jazz Festival, the Dallas St. Patrick's Day Parade, Fort Worth's Oktoberfest, and Grapevine's Grapefest. Isabella also enjoys "country dance," an entertainment-oriented blend of Irish, Scottish, and English folk dances, which she has performed with The Rogues in past years at the Texas Renaissance Festival.

Her favorite motto is "keep smiling"!!