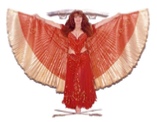 Website created by Lux Alexander. Updates by Lynda (Cryer) Sands
All contents © Isis Bartlett and Isis Academy of Performing Arts.

Safira
Safira is an award winning dancer/choreographer who began at the Isis and the Star Dancer Studio at the age of 6 in 1996. She has studied Cabaret, Folk, Tribal Fusion and Bollywood. She has danced at a competitive level in tap, lyrical, jazz, cheer, clogging and hip-hop. She loves incorporating other dance forms into her belly dance, especially hop-hop. Safira has a passion for life and competing.
Safira was a founding member of the Angels of Isis. Safira feels honored to now belong to the professional dance troupe the Wings of Isis. She is also a member of NTMEDA, the North Texas Middle Eastern Dance Association.
Safira has performed at various festivals including Scarborough Faire, Mayfest, Euless' Arbor Daze, Denton's Arts & Jazz Festival, and Dallas Dance for the Planet. She was 1st runner-up in the 2012 "So You Think You Can Bellydance?" competition in Las Vegas. She auditioned for and performed in the City of Irving's Friday Night Live from 2003-2009. Safira has also been a member of the 2006 1st Place Large Troupe and Grand Prize Winners of The Choreography Project for Middle Eastern Dance, 2008 Yaa Halla Y'all People's Choice Duet/Trio Star Winners, 2009 Yaa Halla Y'all People's Choice Tribal/Alternative Troupe Star Winners and 2010 Yaa Halla Y'all Yellow Rose of Texas Tribal/Alternative Duet/Trio Star Winners.
Safira's motto in life is: Try everything, you might find something you love.