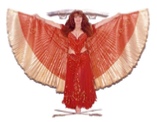 Website created by Lux Alexander. Updates by Lynda (Cryer) Sands
All contents © Isis Bartlett and Isis Academy of Performing Arts.

Saturdays 1:30 pm - 2:30 pm

$60 monthly for students that are not in any other current classes at the Star Dancer Studios
$40 monthly for current Belly Dance or drum students
$10 registration fee for the first month
NEW STUDENTS
CURRENT STUDENTS

Ron Perovich is the Nay player for the band Badrawn and has been playing the classical Arabic flute for nearly a decade. In addition to performance with various music ensembles in the DFW area over the years, he has also released 4 albums of original compositions of instrumental music for belly dance. Ron has a background in music theory from high school and college, and has also had the good fortune to study Ney (as it is spelled in Turkey) under Turkish virtuoso Omar Faruk Tekbilek and renowned ethno-musicology professor Scott Marcus of UCSB. Ron is an enthusiastic student himself of the Nay and of Arabic and Turkish music theory and he looks forward to sharing his experience with those curious to try this ancient, and challenging, instrument!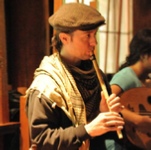 "Say Yay to the Nay!"
Learn the primary wind instrument of the middle east and one of the oldest instruments in the world, the Arabic Nay! The Nay (or Ney, as it is sometimes spelled) is a long, end-blown flute traditionally made from dried river cane, whose form and construction has remained almost unchanged for most of its 5000 year history. The class will give a brief overview of the instrument's history and context, as well as basic Arabic and western music theory concepts that are beneficial to playing the instrument and learning music. Songs and techniques will be taught using a variety of methods so beginners are welcome and no previous musical experience is necessary. Plastic practice flutes will be made available to students, made by Ron.