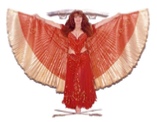 Ruby is internationally recognized for her passionate, untamed dance style. She is truly a powerhouse of energy. Her background of American Classic Bellydance and Turkish Oriental make her performances stand out with a raw, individual interpretation. Her love of Turkish culture drew her strait to the source with multiple years of study in Istanbul. In addition to being an award winning performer Ruby won the prestigious title of "Instructor of the year" in both 2013 and 2016. She is featured on 9 instructional and performance DVDs including her own instructional series: Deadly Drum Solo, Perfect Practice, All About Arms, Totally Turkish and Flawless Floorwork. Ruby has an active touring career, bringing her joyful and energetic style to workshops and performances around the globe.
Awards:
2016 Instructor of the year
2013 Instructor of the year
2010 Bellydancer of the World "1st Runner up"
2009 Bellydancer USA " Winner Professional Category"
2008 Bellydancer USA "1st Runner up"
2008 East Coast Bellydance Classic "Grand Champion" and "People's Choice"
2008 Emerald Rain Bellydance Contest "Champion"
2007 Bellydancer USA "Peoples Choice"
2007 Double Crown "Gypsy Stylist"
2007 Emerald Rain "Gypsy Stylist"