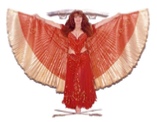 All contents © Isis Bartlett and Isis Academy of Performing Arts.

You may have seen Sadie on America's Got Talent, where she made her way to the "Top 48" (Quarter-Finals) of Season 5. Or you may have seen one of her many viral YouTube videos, one with over 40 million views.
Sadie has had a deep love and appreciation for Raqs Sharqi for over 20 years. Her passion has taken her to Egypt and Turkey on dozens of trips to immerse herself in the culture. Sadie's career spans 15 years with performances and classes in over 50 countries.
She is featured on dozens of best selling instructional videos and now has her online school www.RaqsOnline.com. Raqs Online currently boasts over 500 classes and counting with dozens of source teachers from around the world, who are all experts in their dance craft and fitness genre.
When Sadie is home in Colorado, she is happy to be dancing locally with her newly formed Empress Dance Collective or farming hemp in the summers with her mom.
Stay up to date with Sadie and her latest happenings at www.SadieBellydancer.com, www.EmpressDance.com and www.RaqsOnline.com or join her for one of her famous destination retreats to Egypt!