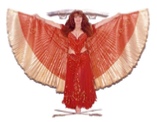 Website created by Lux Alexander. Updates by Lynda (Cryer) Sands
All contents © Isis Bartlett and Isis Academy of Performing Arts.

Sadie is an International performing artist, instructor and choreographer recognized worldwide as one of today's most exciting and innovative Belly Dance artists. First seen as a "Rising Star" on BD-TV Vol.II in 2004, Sadie is now featured in dozens of instructional and performance DVDs displaying her dynamic style of bellydance which has captivated audiences and inspired students around the globe. As one of the most sought after performers and teachers of Belly Dance, Sadie has visited over 70 cities in more than 30 countries and is one of the most watched bellydancers on youtube with over 20 million hits on just one video clip alone. Sadie's fans and colleagues have crowned her "The Queen of the Drum Solo". Recently Sadie and her dance partner Kaya wowed the judges of "America's Got Talent" and the American public all the way to the "Top 48" out of 70,000 auditions on season 5 of the program. They are the only Bellydancers to make it that far on the American version of the show.
Sadie has held a lifelong passion for dance, music and culture. In addition to Bellydance Sadie has studied and practiced other forms of world dance such as, Brazilian Samba, Salsa and Tahitian to name a few. Sadie's styling and bellydance techniques, along with those developed together with her dance partner Kaya, have marked a new genre of bellydance defined by their signature isolations known as "Pops" and "Locks", and is sought after and followed by students and teachers around the world. Together Sadie and Kaya have trained many up and coming dancers in the Denver area and the US as well as internationally.