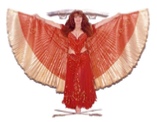 Sa'diyya's charismatic, energetic and culturally authentic performances have made her a popular artist in the world of Raks Sharqi throughout the United States and beyond! She is a full time professional performer, instructor, event producer, costume designer and owner of North Texas School of World Dance - Art of Belly Dance by Sa'diyya, based in Dallas/Fort Worth, TX. Her latest project is a professionally produced line of downloadable belly dance classes called, "Sa'diyya Online!" Sa'diyya's exciting and memorable signature style of belly dance is a dramatic yet jazzy mixture of American Cabaret with a heavy modern Egyptian Raks Sharqi influence. She also specializes in various folkloric and fusion styles of Belly Dance.

Having started learning the art of belly dance while in her teens (her first teacher was Isis, your fabulous host of Yaa Halla Y'all!), she has almost 2 decades of experience in Middle Eastern Dance! She has performed thousands of times throughout the years. The combined qualities of experience and natural talent make Sa'diyya a uniquely skilled performer and instructor:

"Sa'diyya is one of the top belly dance artists in Texas. I have always admired her artistic expression. I think she is extremely talented technically as well as emotionally. I always look forward to seeing her perform!" -Jillina

Having won more than 20 national and international awards for her solo and troupe performances, including 2011 Belly Dancer of the Universe, she has established herself in the international world of Belly Dance. In November of 2012 she won the prestigious online reality series competition, "Project Belly Dance - America's Next Top Belly Dancer," produced by Cheeky Girl Productions. And in the Summer of 2014, she completed a highly successful month-long headlining tour of South East Asia. Her workshops and performances in Indonesia, Malaysia and Singapore attracted international students from all over those countries as well as from Australia, China, The Philippines, India and Thailand. "Sa'diyya is fluid yet dynamic, feminine yet powerful, and extremely inventive. She is an amazingly gifted dancer, instructor and choreographer. She is also fun and lively throughout, always smiling and enthusiastic. I hope she will come back to Indonesia again!" -Mia, Jakarta, Indonesia

As an instructor with more than 15 years of experience teaching Middle Eastern dance, Sa'diyya has developed a clear-cut, challenging and fun method of teaching that leaves her students inspired and sharing her enthusiasm and passion for Belly Dance! Sa'diyya's exciting and unique performances and choreographies have made her a sought after performer and instructor of the Art of Belly Dance!
Danza della Luna at Las Vegas Bellydance Intensive 2011 (LVBDI)
Danza della Luna at Las Vegas Bellydance Intensive 2011's saturday night Pro Show. Videography by Candlelight Productions. Uploaded with permission.
youtube.com