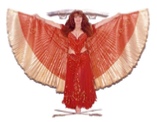 Website created by Lux Alexander. Updates by Lynda (Cryer) Sands
All contents © Isis Bartlett and Isis Academy of Performing Arts.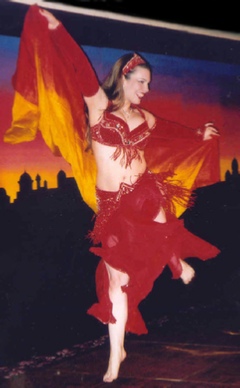 Sa'diyya, member and Assistant Artistic Director of The Wings of Isis, is an instructor and choreographer of Raks Sharki and Ethnic Fusion Belly Dance at the Isis Studios in North Texas. She has been involved in Middle Eastern dance for eight years. She teaches workshops and seminars over various dance styles, unique combinations, restaurant dancing and stage makeup in-house, locally, and nationally.
Appearances with The Wings of Isis Professional Dance Company include nursing homes, Scarborough Faire and other special dance concerts and fundraisers. Sa'diyya appears weekly at numerous restaurants and private parties in the Dallas/Ft. Worth area, while continuing to travel to competitions, perform at seminars and study with many of the top artists in Middle Eastern Dance like Isis, Amaya, Jillina, Margo Abdo O'dell, Raqia Hasan and Mamoud Reda. Some of her dance specialties are cane, double cane, candelabrum, sword, veil, wings, tray and audience participation. Her energetic, innovative Egyptian-influenced styling and sassy, yet warm personality on stage has won many awards including first place at the Belly Dancer of the Year Pageant 2003 and first place at the Spring 2004 Bellydance Superstars Star Search. Sa'diyya can be seen in the International Academy of Middle Eastern Dance's newest DVD production, "Belly Dance Revolution".