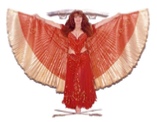 Website created by Lux Alexander. Updates by Lynda (Cryer) Sands
All contents © Isis Bartlett and Isis Academy of Performing Arts.

Susu Pampanin is a master of all types of percussion instruments and styles of music; and her incredible talent is especially evident in her work in Middle Eastern drumming. Susu is well known for her virtuosity in Arabic drumming and is one of the few female Middle Eastern drummers highly respected by the Arabic professional music community. Additionally, she is proficient in Salsa, Latin, African and many other types of fusion and individual composition of drum styles. Susu's talent and passion for percussion rhythm has enabled her to fuse traditional and contemporary Arabic sounds and Belly dance rhythmic styles with both Latin beats and American pop elements to create her fresh innovative sounds.
Susu began honing her techniques as a small child, and by the age of 13, she was sitting in with Arabic orchestras. Her studies eventually expanded to include the complex rhythms of Afro-Cuba, Brazil, North Africa and even traditional Western percussion techniques. Her interest and studies have taken her to Egypt and Morocco. She is now one of the most sought after percussionists in the U.S. and is an expert on Middle Eastern rhythms. Two of her more popular CDs are Susu and The Cairo Cats and Hands of Time.