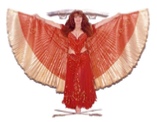 Website created by Lux Alexander. Updates by Lynda (Cryer) Sands
All contents © Isis Bartlett and Isis Academy of Performing Arts.

Since 1996 Suzanne has choreographed and performed various styles of dance including Hip-Hop, Modern, & Tahitian. In 2008 she joined a local studio in El Paso, TX where Suzanne learned the fundamentals of Belly Dance and went on to perform the various styles (Cabaret, Egyptian, Tribal fusion, & Bollywood) with a troupe when time allowed. After leaving TX in 2014, Suzanne traveled the U.S. for three years taking workshops, learning techniques, performing in different shows and defining herself as a solo dancer. After moving to San Antonio in 2016, she joined Karavan Studio (with Karen Barbee) where she became committed to enhancing her skills as a performer and choreographer. From then on Suzanne experienced tremendous growth in vocabulary, technique, and ability. She has performed in multiple productions through out Texas including GBDAC and The Cat's Meow. More recently she won First Place Judges Choice and People's Choice in the Tribal/Fusion/Alternative Pro Solo Category at 2018 Yaa Halla, Y'all and has been invited to come back and teach at Yaa Halla, Y'all 2019. Look for her workshop on Thursday in the Constellation Room.