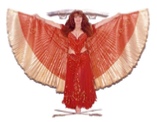 …........... is an award winning belly dance performer and instructor. Beginning in 2006, Victoria Teel has studied multiple dance styles including Egyptian, Turkish, American Cabaret, Egyptian Folklore, and Spanish fusion belly dance. Quickly a passion grew for the dance and culture and she soon began working with internationally acclaimed artists, directors, and producers. In 2010, Victoria was chosen along with 24 other dancers to participate in the worlds first ever belly dance reality show, Project Belly Dance. She placed among the top six contestants, earning her spot in the 'Final 6' instructional DVD released in March 2011.
After Project Belly Dance, Victoria joined Miles Copeland's Bellydance Superstars in Japan for the tour of Bombay Bellywood. She then was chosen along with four other Bellydance Superstars to participate in their Club Bellydance tour. She then toured for three years with the Belly Dance Superstars.
Victoria is internationally recognized for her unique fluid dance style and effortless execution. Her instruction method focuses on flow and how to create a seamless piece of choreography for any style. She is also the creator of the 'Teel Fan Method', a dance technique using fans and fan veils incorporating influences from Asian dances.
Today, Victoria is based in Washington DC and offers weekly online classes as well as teaching and performing in the Washington DC area as well as on national tours.
Since her dance studies began, she has earned the following titles:
2010 Project Belly Dance Final 6 Contestant
2010 Yaa Halla Yall Professional Cabaret First Runner Up Professional Cabaret
2010 Texas A&M's MSC Variety Show 3rd Place Talent
2009 Texas A&M's Philsas Isang Mahals 1st Place Talent
2009 Texas A&M's i-Week Variety Shows Best of Show
2008 Yaa Halla Yall Rising Star Winner
2008 Austin Belly Dance Conventions Miss Hot Texas