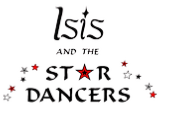 Aziza - Saturday - Shares her favorite veil combos. *Bring a veil
Jillina - Saturday - 'Delicious Drum Solo' - This drum solo will explore intricate hip technique, various types of shimmies as well as challenging isolations. Learn how to control your movement and translate the music through the body.

Jamilla Al Wahid - Saturday - 'Afro Beat Dance'- Jamilla's African Dance infuses her West African culture moves with modern jazz & funk. An energetic class that will have yoiur body feeling the soul rhythm of the Afrobeat.

April Rose - Saturday - 'Cued Cohesion Combos for Group and Solo Improvisation'- Learn to dance movements and combinations based in raqs sharqi and transcultural fusion that can easily be threaded together improvisationally in the moment, to live or recorded music! These movements and combos are associated with certain Middle Eastern rhythms AND have accompanying multi-tonal finger cymbal layers that accent those rhythms. So you will always know what choice to make, even if you're dancing to brand new music! You can even use non-verbal cues to signal your choice to a group of dancers, enabling you all to dance together improvisationally as if you are doing a prepared choreography! ---- In this workshop we'll be working with ayub and maqsum rhythms. (We'll also incorporate the combos from Friday's workshop for anyone who attends both!) *Please bring finger cymbals if you would like to learn the finger cymbal layers.
Karim Nagi - Saturday - Blazing Beats - 'MUSIC - Arabic Music Ensemble, folklore edition, for all instruments'- Karim Nagi will teach two complete Arabic folklore songs. One will be a Saidi song from the south of Egypt, and the other will be a Dabke song from the Palestinian repertoire. The musicians will learn the melodies, sections, speeds and dynamics, plus how to embellish the piece, extend or shorten, and make it their own. All instruments are welcome.