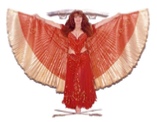 Dalia Carella - Friday - 9:00 am - 12:00 pm - Celestial Room - 'DANSE ORIENTAL (Near / Middle Eastern Bellydance)' - the Dalia Carella Technique - Dalia has created her own unique style in the field of Middle Eastern Dance, which students worldwide seek to be instructed in this format. This class focuses on taking traditional dance steps of the Near and Middle East while adding a contemporary twist within a Belly Dance format creating interesting combos, choreography and sizzling steps. Hip Work, interesting hands, body isolations and creative floor designs are taught in this class. The student really gets a class in technique and how to bring out more of their "sassiness and sensuality" while becoming one with the music!

Ansuya - Friday - 1:00 pm - 4:00 pm - Celestial Room - 'SACRED SINUOSITY' - In this "Sacred Sinuosity" practice, Yoga is blended with the snake like movements of Bellydance in order to activate the chakras, awaken the energy of kundalini rising, and release the goddess within! Class will begin with blissful breath, mandala meditation, and creative visualization to deepen your state of calm, illuminate your intuition, heighten your dance artistry, enhance your ability to focus, and ignite your power of intention! This will be followed by a deep delve into Ansuya's *BBM* Bellydance Body Mechanics approach to Taxim and Chiftitelli moves, including specialized stretches and strengthening exercises designed to increase your range of motion and emotional expression, preparing you for exquisite levels of intuitive improvisation. From here, we will enjoy our "Hatha" Yoga poses which will be moved through at a slow pace to give time to build strength and balance within poses and during transitions between poses. Assistance on pose alignment and stretching modifications will be given for developing the flexibility and strength needed for each pose. Then we will crown each of these Yoga pose jewels by layering on the slow isolations of Bellydance for the Sacred Sinuosity effect! Floorwork is included, so bring your mat! Breaks are taken between poses, or at any time that rest is needed, and our "Yin" poses are held for longer periods of time in order to access the deep connective tissues and fascia between and surrounding the muscles of the body. Benefits include increased circulation which delivers hydration and nutrients to the joints, deepened flexibility, and calming of the nervous system. This helps with releasing tension as you restore your body and rejuvenate your being! Class will wind down with a return to blissful breath and mandala meditation and will conclude in restful Shavasana.

Yoga w/ Inaya - Daily - 8:30 am - 8:55 am - Galaxy Room - 'YOGA' - Begin your workshop day with a Yoga warm up! Attendees should wear comfortable fitness or dance clothing (narrow leg pants, capris or shorts are recommended) a warmer layer that can be removed, and are encouraged to bring a yoga mat. Yoga blocks, stretching straps or fitness towels are also helpful, but not necessary.

Mia Sha'uri - Friday - 9:00 am - 11:00 am - Galaxy Room - 'TBA' -

Colleena Shakti - Friday - 11:30 am - 1:30 pm - Galaxy Room - 'TBA' -

Silvia Salamanca - Friday - 2:00 pm - 4:00 pm - Galaxy Room - 'ALL ABOUT LAYERS: Who knew your body could do that?' - Get ready to spice your dance with the universe of layers! We will break down different approaches to master layers and then we will learn those jaw-dropping combinations that use all the different parts of the body in mesmerizing ways.

Badrawn - Friday - 10:00 am - 12:00 pm - Constellation Room - 'TBA' -
Karim Nagi - Friday - 1:00 pm - 3:00 pm - Constellation Room - 'ARABIC MELODY FOR MUSICIANS' - All melodic acoustic instruments are welcome is this ensemble-style workshops. Students can bring any western or eastern wind, plucked string, or bowed instrument. Reading notation is not mandatory. Students will follow Mr. Nagi and learn how to play melodic scales and phrases of Arabic music. This class will guide the students through famous Arabic Maqam scales, decoration & ornamental playing, and Taqasim improvisation. It will develop their ears, and understanding of the Arabic style, all while using an instrument that they are already comfortable with.