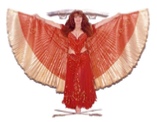 Bozenka - Saturday - 9:00 am - 12:00 pm - Celestial Room - 'FLUID YET EARTHY' by Bozenka- Move to your best potential. Bozenka will demonstrate how her light yet strong connection to "earth" movements are executed. This workshop will begin with a lengthy and detailed warm-up and build up to drills and combinations. Find yourself moving every part of your body in complete relaxation and focus. All levels welcome!
Ansuya - Saturday - 1:00 pm - 4:00 pm - Celestial Room - 'TBA' -
Yoga w/ Inaya - Daily - 8:30 am - 8:55 am - Galaxy Room - 'YOGA' - Begin your workshop day with a Yoga warm up! Attendees should wear comfortable fitness or dance clothing (narrow leg pants, capris or shorts are recommended) a warmer layer that can be removed, and are encouraged to bring a yoga mat. Yoga blocks, stretching straps or fitness towels are also helpful, but not necessary.
Meera Varma - Saturday - 9:00 am - 11:00 am - Galaxy Room - 'TBA' -
Dalia Carella - Saturday - 11:30 am - 1:30 am - Galaxy Room - 'TANGO FUSION with VEIL' - The Passionate Veil - Looking for different ways of expressing yourself? This class is geared towards helping dancers to create movement and shapes and using the veil as your partner in dance.. Learn to become one with the veil, feel its intensity, feel its beauty, flow with it. Expressive combinations and air design movement will be explored while using a veil to sultry tango music. Experience Dalia's unique approach to veil work through her invaluable dance experience throughout the years. Please bring a 3.5-4 yard veil
Colleena Shakti - Saturday - 2:00 pm - 4:00 pm - Galaxy Room - 'TBA' -

Karim Nagi - Saturday - 10:00 am - 12:00 pm - Constellation Room- 'RIQQ (ARAB TAMBOURINE)' - The "Riqq" tambourine is the lead percussion instrument in the Arabic orchestra and classical ensemble. It is played with the fingers on both the skin and the cymbals. The technique calls for three different holding possitions and techniques. In addition to Arabic music, these instruments are widely used in Turkish, Iranian, Balkan, Gypsy and Mediterranean music. Students will learn technique, stamina, rhythmic repertoire and various ethnic styles. Karim Nagi has recently authored a comprehensive Instructional Riqq DVD.
Soroush - Saturday - 1:00 pm - 3:00 pm - Constellation Room- 'Improv' -