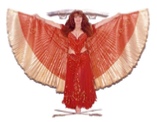 Badrawn & Kata Maya - 'Dancing to Live Music' - Thursday - 9:00am - 11:00am - Musicians will learn to play a popular middle eastern song and are invited to play it with the band in the Thursday night show. All melody players and drummers of all skill levels are welcome. Dancers will learn a choreography to the song and are also invited to dance with Badrawn and student musicians in the Thursday night show. Both dancers and musicians will learn how communicate with each other when discussing performing to live music. Celestial Room (Drums & Dancers) how to communicate with each other to create something great! 11:00am - 12:00pm Dancers only in the Celestial Room - Drummers only in Constellation Room - Outlining what we want and starting the creative process. LUNCH 12:00 - 1:00 pm - 1:00pm - 2:30pm Dancers only in Celestial Room working on the Choreography - Drummers only in the Constellation Room working on the music 2:30pm - 4:00pm Celestial Room (Drummers & Dancers) bringing it all together - preparing for Thursday night's Show. Participants are invited to perform that evening!!
Yoga w/ Inaya - Daily - 8:30am - 8:55am - Galaxy Room - 'Yoga' - Begin your workshop day with a Yoga warm up! Attendees should wear comfortable fitness or dance clothing (narrow leg pants, capris or shorts are recommended) a warmer layer that can be removed, and are encouraged to bring a yoga mat. Yoga blocks, stretching straps or fitness towels are also helpful, but not necessary.

Frank Farinaro - Thursday - 9:00am - 11:00am - Galaxy Room - ' Daytime Nightclub' - Kick off your Yaa Halla, Y'all with a dance-party disguised as a dance workshop! Bring the excitement of a nightclub weekend to your weekday morning practice, in this workshop that trades the shots and cocktails for coffee and water. This unconventional method will help you unlock new achievements in your personal practice and performance. Get extra festive at the festival with some banging beats and dirty rhythms, in Frank's Daytime Nightclub!
Silvia Salamanca - Thursday - 11:30am - 1:30pm - Galaxy Room - 'All about layers: who knew your body could do that?' - Get ready to spice your dance with the universe of layers! We will break down different approaches to master layers and then we will learn those jaw-dropping combinations that use all the different parts of the body in mesmerizing ways.
Shannon Sweet - Thursday - 2:00pm - 4:00pm - Galaxy Room - 'Tribal Fusion Silk Fan Veils' - In this fun and challenging workshop, students will learn unique combos and a short section from Shannon's silk Fan Veil choreoghraphy to "It's Only" by Odesza. She will break down her stylized techniques for Tribal Fusion silk Fan Veil movements, so that students may learn how to incorporate more sharp, percussive movements in with other fluid fan veil styles. All skill levels welcome. Please bring a pair of standard length silk Fan Veils [Right and Left hand Veils]
Sa'diyya - Thursday - 9:00am - 11:00am - Constellation Room - Shakeup Your Stage Makeup - Get ready to learn many of Sa'diyya's tricks for fabulous stage makeup! You will learn how to totally glamorize yourself for small, intimate stages to huge theatrical halls on raised stages. Dancers who need to have their glamorous appearance last for hours through many performances will also learn how to keep their makeup looking super fresh through sweat and humidity. Sa'diyya will include tips on how to apply makeup to different face, eye and mouth shapes to achieve the most flattering appearance for performance. She will also share which brands are the best as well as how to save money with the best/most effective drug store brands of cosmetics for stage makeup purposes. And lastly, Sa'diyya will go over the essential stage makeup steps that are needed for a polished look when you only have 10-15 min to get glam!
Please bring the following items: (If you don't have everything, don't worry. Bring what you have.)
-False Lashes (Big Dramatic Ones!) & Lash Glue
-Cosmetic Brushes
-Primer, Foundation, Concealer & Setting Powder
-Contour & Highlight Powders or Cream
-Blusher
-Eye Shadows (A Mix Of Matte and Shiny in Light, Medium & Dark Tones)
-Eye Liner & Mascara
-Vivid Lipstick & Lip Liner
-Mirror, Tissues and Hand Wipes